Lively receives a sweet kiss and hug from her husband as she brings her daughters to visit him
Ryan Reynolds got a special treat on Wednesday when his busy shooting day for his upcoming superhero film Deadpool 3 was broken up by a visit from his wife Blake Lively.
The 35-year-old actress looked casual and cool as she dropped by the shoot, which is currently in Norfolk, England, with two of the couple's older daughters.
And the actor, 46, welcomed his wife of almost eleven years with a sweet kiss and a cuddle as they spent time together on the beach location.
Ryan was suited up in his now-iconic red costume to play the title character, the wisecracking anti-hero Deadpool.
He was joined on set by his longtime friend Hugh Jackman — who has joined in on a years-long campaign of pranking and teasing each other — as he's set to reprise his role as the X-Men superhero Wolverine.
Blake highlighted her incredible post-baby body on her set visit by wearing a sleek white cropped tank top that showed off a hint of her trim midriff.
She kept the look relaxed with a white long sleeve button-down shirt that she left completely undone.
She also showed off her fashionista instincts with an eye-catching pair of high-waisted navy blue leather pants.
The Age Of Adeline actress wore her long blond hair down and let it flutter about in the breeze.
Blake appeared to have arrived on set between takes, as Ryan was maskless and was able to stop and chat.
The Sisterhood Of The Traveling Pants star met Ryan on his ill-fated superhero film Green Lantern, which is widely considered one of the worst movies ever made in the genre.
But its critical pans and box office disappointment didn't slow down the romance, and they were officially dating by the following year.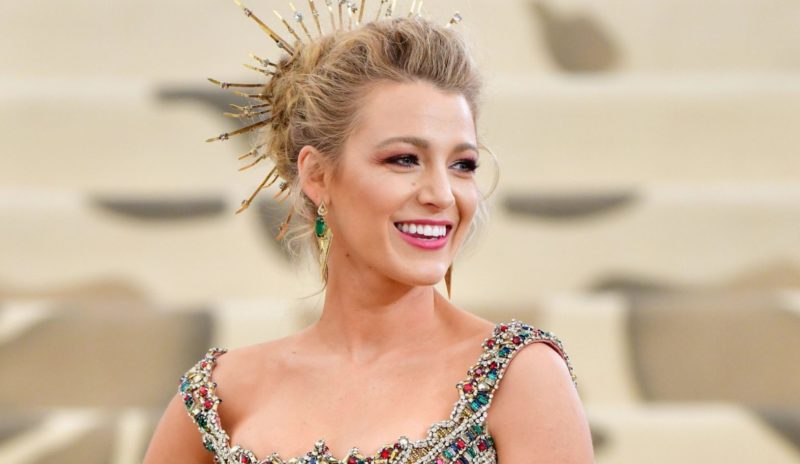 The couple were controversially married on a plantation in South Carolina in 2012, and they have since welcomed four children:
their daughters James, eight; Inez, six; and Betty, three; along with their youngest child, who was born sometime prior to February, when Blake was spotted without her baby bump.
She and Ryan tend to be protective of their children and haven't revealed the youngest one's name or sex.